Nepalese style dipawali rangoli Diwali rangoli or Tihar rangoli or dipawali rangoli
Dipawali means colorful rangolis! Beautifully designed and colored,
almost every house in the country will have its entrance decorated with
handmade rangolis of various patterns. And yes, they win our hearts with
their beauty and colors.
# Rangoli and its traditional roots
Rangoli
is an old Nepali tradition, followed by our ancestors since several
years and holds a special importance during Dipawali. In Dipawali, colors
play an important role.
It is also due to this reason that people get their
homes painted and buy new colorful clothes and gifts for their dear
ones. Also called as Alpona, kolam and Aripoma, rangoli designs and
patterns have been made for several years and passed from one generation
to the other.
The word Rangoli is coined from two words, "Rang"
and "Aavali" which means, Row of Colors. The designs and colors used in
making a rangoli varies greatly based on the regions, tradition and the
culture of the people. You will see people making rangolis with colors,
rice powder and also flower petals.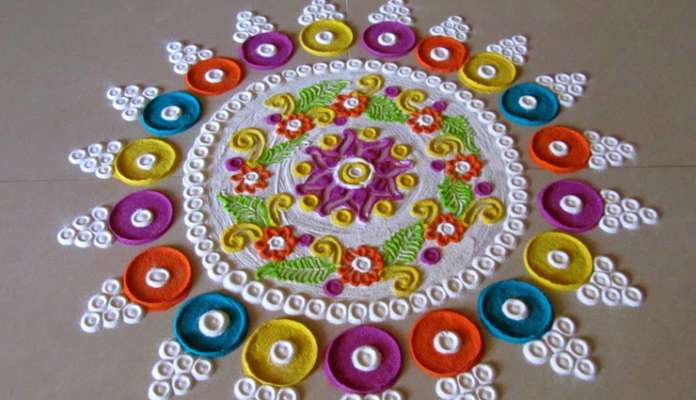 # Rangoli and Dipawali
Dipawali
is celebrated across the country, mainly as a festival to welcome
goddess Lakshmi. People clean their homes, remove all garbage and dirt
from the house to welcome the Goddess and decorate the entrance of the
house with beautiful rangolis. The rangoli patterns are created using
chalks, crushed limestone and rice powder and different colour powder
You can simply make a small design or even make a huge one based on
your own choice. Usually, people make it small, almost the size of your
door-mat kept at theentrance of your home. The pattern for the rangoli also
varies based on the skill of the person making the rangoli and the time available.
The
design usually starts from a simple line or circle made from pencil or
chalk. The design later is filled with different colors adding more
beauty to the pattern.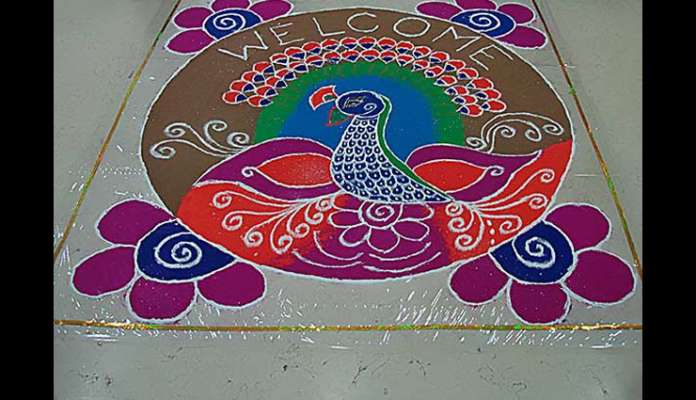 # Rangoli in Nepal
Rangoli
in Nepal is done in different ways, in different states. The patterns
change, the mode of making changes and also the idea of making rangoli
also changes. However, the reason of making rangoli remains the same and
also a few basics, like making the Swastik and foot prints of Goddess
Lakshmi on the four corners of the Rangoli.
In Nepal, people draw
the footprints of goddess lakshmi on the doorsteps of their homes,
Above all, the design of the rangoli doesn't matter much. All that really matters is the presence of a rangoli in your house during Dipawali. The festival of lights is incomplete without a Rangoli. So, enjoy togetherness and tradition with rangoli designs this Dipawali.