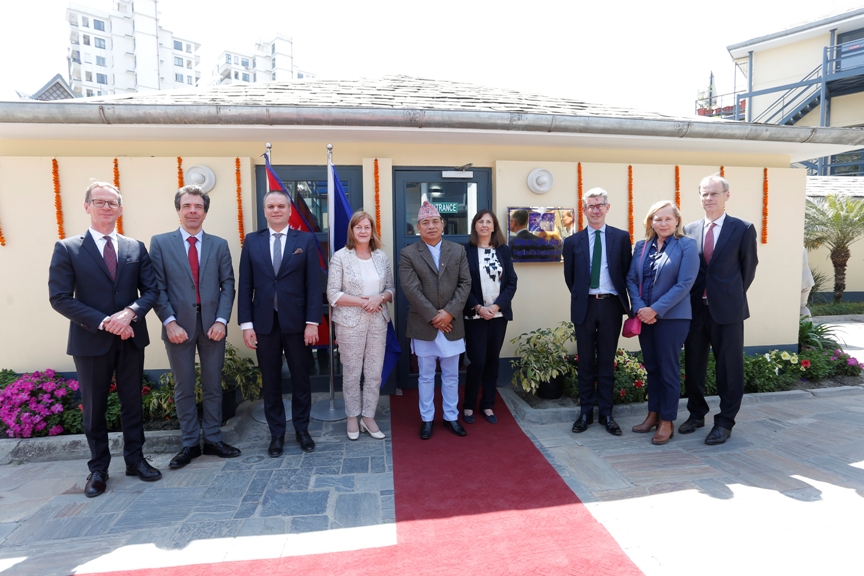 Kathmandu, March 18
The new office premises of the Delegation of the European Union to Nepal has been inaugurated amid a programme in Kathmandu on Monday.
Vice President Nanda Bahadur Pun, Deputy Managing Director for Asia and Pacific of the European External Action Service (EEAS) Paola Pampaloni and EU's ambassador to Nepal Veronica Cody jointly inaugurated the office.
Inaugurating the new premises, Pampaloni said, "The EU and Nepal have been partners in development cooperation ever since bilateral relations began in 1973. Last year, in 2018, we marked 45 years of our friendship. The purchase of the new Delegation premises is a testimony to the European Union's commitment to remain engaged in and with Nepal and indeed over the term to strengthen this partnership."
During her visit to Nepal, Pampaloni met Foreign Minister Pradeep Gyawali, Finance Minister Yuba Raj Khatiwada, advisor to the prime minister Rajan Bhattarai and foreign secretary Shanker Das Bairagi.
The EU is the largest development donor in Nepal contributing around $400 million since 2014 in the fields of rural development, education, governance and reconstruction.
from OnlineKhabar https://ift.tt/2CrnUhV